If your organization is looking to create a coherent look throughout every piece of marketing material, our Corporate ID Deluxe package is the right solution.

Team of graphic designers
Unlimited Original Logo Concept
Unlimited Revisions
2 Original Business Card Concepts
2 Original Letterhead Concepts
2 Original Envelope Concepts
2 Original Presentation Folder Concepts
2 Original Thank You Card Concepts
Free set of 500 Business Cards
Account Manager
First Concepts in 72 hours *
Guaranteed Satisfaction
Multiple File Formats
---
Get Started Now
Corporate ID Deluxe Package
Handing out professionally designed materials to your customers, prospects and contacts can say a great deal about your organization and the way in which you conduct business. If your organization is looking to create a coherent look throughout every piece of marketing material, our Corporate ID Deluxe package is the right solution.
We will design your company's logo, basic stationary, presentation folders and thank you cards, working with a focused design concept throughout. We can even print everything for you, shipping it all to your door for FREE. Our team of professionals will enable your business to move to the next level, saving you time and money in the process.
For more information talk to our logo sales professionals at
954-636-1437
We have the most convenient and quick process. Read how the process works:
1. Select a Package
To get started select a design package that best fits your needs. The image of a company should represent the nature, character and essential values of your business; it is what sets you apart from your competitors. There are a variety of design packages to choose from. You can customize it to your business unique needs. Pick design packages, include printing, or even add promotional products to your order.
2. Fill out the Brief
In this step we ask you to fill out a questionnaire to help us understand your company and what you're looking for in the project. If you don't feel comfortable doing it on your own a skilled costumer consultant will be available to guide you through this questionnaire. The data is incorporated into the project design. A personal account manager will be assigned once the project is ready to begin. This representative will make sure that you have provided enough information for the creative team to submit a first draft of the project, whether you have ordered a brochure design, web site design or logo package. Design experts will track your project and make sure it is executed effectively and answer any questions you may have.
3. Review your Concepts
72 business hours later you'll receive an email announcing the completion of the first draft. To review the drafts you go into the project board, on The Logo Boutique site that will help you track the process. You can view and order changes to your project drafts and read designers comments and download the artwork; at this point you can test your drafts with friend testing where you can send a friend or associate invitations so that they can give you feedback and vote on their favorite deigns. It is your comments and suggestions such as a change in font or icon that are most valuable and help us refine your concept so it becomes your concept.
4. Do revisions to your Project
Changes are made to your project based on your comments. 48 business hours later revisions arrive via email and once again you can review them on the project board. This part of the process is unlimited; we will work until it is just right. The account manager and creative director are available to you throughout the entire process, to address questions, concerns or ideas you may have.
5. Your Final Artwork
Once your project is complete The Logo Boutique can help create other marketing pieces. What truly separates The Logo Boutique apart from the competition is their quality guarantee. Only a professional design firm that has total confidence in their work would ever offer a complete 100% satisfaction guarantee. We work until you are completely satisfied with your design. Once the project has been created, it's time for The Logo Boutique to start marketing. Not only do we provide you with the image but we also help you with postcard design, promotional products, and numerous other marketing mediums. If your piece requires printing, The Logo Boutique offers you the best prices and free shipping in any piece we design. We will store all your files in the site for up to a year and you can download them at any time. You can also choose to receive a flash drive with all you files as a backup that you can use to save all your company information and have easy accessibility.
See what our customers are saying about this package:
"I really love my logo. I was looking for something sophisticated and something that gets the message across. I have it on business cards, letterheads, promotional items, I use my logo all the time. I think it fits my style. We are a company located in Barbados. When we decided to look for the right company to design our logo we were a little concern about a company doing our work overseas. Once we picked TheLogoBoutique.com and saw the first round of concepts we worried no more. They are very professional, and very creative." Martin Bourne Owner ..." Read more...
more packages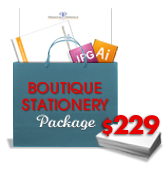 Team of graphic designers
2 Original Business Cards Concept
2 Original Letterhead Concept
2 Original Envelope Concept
4 Stationery Revisions
Free Set of 500 Business Cards
View
---
Team of graphic designers
Unlimited Original Logo Concepts
Unlimited Revision
2 Original Business Card Concepts
2 Original Letterhead Concepts
2 Original Envelope Concepts
View
---
2 Original Business Cards Concept
2 Original Letterhead Concept
2 Original Envelope Concept
First Concepts in 48 hours *
Free Set of 500 Business Cards
4 Stationery Revisions
View
---
* 72 hours apply to business days only