Business Cards Design Prices & Packages
Team of graphic designers
Boutique Logo Package Inlcuded
First Concepts in 24 Hours
Original Business Cards Design Concept
Business Cards Revisions
500 Business Cards FREE
Dedicated Project Manager
Creative Director
Multiple File Formats
Satisfaction Guarantee
100% ownership of art work
Team of graphic designers

4 Original Business Cards Design Concept

4 Business Cards Revisions

2 Original Letterhead Design Concept

2 Original Envelope Design Concept

1 Set of 500 Business Cards FREE

Dedicated Account Manager

Creative Director

Project Manager
 24 Hours Delivery Date First Concept*

Guaranteed Satisfaction

Multiple File Formats

100% ownership of art work
Team of graphic designers

4 Original Business Cards Design Concept

4 Business Cards Revisions

1 Set of 500 Business Cards FREE

Dedicated Account Manager

Creative Director

Project Manager
 24 Hours Delivery Date First Concept*

Guaranteed Satisfaction

Multiple File Formats

100% ownership of art work
View all packages
How Business Cards Help Your Business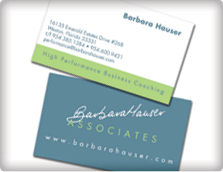 Business cards may seem like an outdated 1980s concept at first. After all,
everyone is online nowadays. Now people can just program phone numbers into their cell phone. You?re probably wondering,
should I really invest in business cards in this day and age? The answer is a resounding yes!
Business cards are a particular avenue of marketing, and all forms of marketing are important if you really want to get
your name out there. Business cards, along with flyers and postcards can be used to promote new campaigns, endear your
customers to your company and generally keep your name relevant in the market.
You can send your card to someone through mail or give a new contact an attractive and professionally
designed card in person.
Sure, it's easy to say that everyone is online nowadays. However, does that mean that just because something is
available online that massive audiences are going to find it? No. People are only going to be interested in a new
product if they are solicited to learn more about it. Custom cards direct your public's attention to your services.
It gives them a reason to look up further information online. It piques their curiosity and makes them yearn to learn more.
Card design can be challenging, however. Stock business card designs may be inexpensive but they are usually forgettable.
On the other, you have a great deal of commercial potential in custom business cards design. You can customize not only a
colorful logo that will grab people's attention, but also your own contact information and campaign message. Additionally,
we offer as many names as needed and you can print a set of 1000 double-sided business cards for $65 with no shipping charge!
We also offer affordable prices and packages.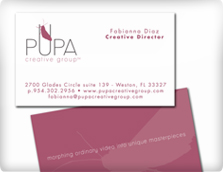 We can provide you with a free consultation about your future business card design. You can review concept
information with a customer consultant and then add details throughout the design process. The Logo Boutique
offers logo design services as well as custom business cards design, postcard design, brochure and flyer design along with many
other avenues of direct marketing. If you really want to promote your company on a local basis or broaden nationally,
then you must have a pitch-perfect marketing campaign. Business cards are an important part of that campaign.